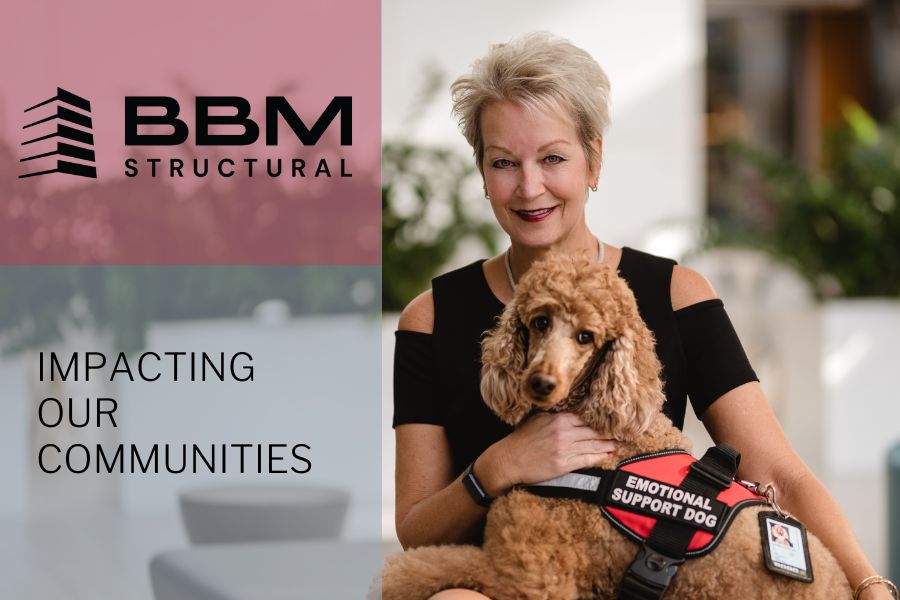 31 Jan

Community Impact: Bringing comfort to those who need it most

Making an impact in the lives of others can come in all forms. BBM Associate and Director of Marketing and Business Development Karen Petersen, along with BBM's own Chief Morale Officer Riley, have been working together as part of a special project that brings a new form of wellness to the local community. Since 2020 they have been part of the Zen Dog Therapy Network in Central Florida. This amazing group works with ATD Certified Therapy Dogs and Handlers sharing their special dogs with people in need of comfort.
"The joy and comfort these animals provide is truly incredible. Every visit is so emotional. It is such a fulfilling volunteer opportunity and I feel fortunate to be able to participate."
Most recently the group attended the 5th Annual Gold Humanism Honor Society Conference at UCF's College of Medicine. It was a wonderful opportunity to have an interchange with people who recognize the importance of pet therapy and the beneficial effect they can have on a variety of recipients.
The Zen Dog Therapy Network has had the opportunity to work with healthcare facilities, youth programs and schools, emergency management facilities and their teams, and special commemorative events like the OnePulse Rainbow Run in honor of the Pulse Club tragedy in Orlando, and The Brotherhood Ride  that is made up of a group of firefighters and police officers who ride their bikes on an organized route to different areas and states to honor fallen first responders who gave their lives in the line of duty. Their most recent ride had them arriving at the Elks Club in Orlando where they honored three families including the wife and young children of an Orlando Police officer who was killed in the line of duty. Since the riders are missing their animals they leave at home, the Zen Therapy Group felt it a privilege to be there to support them.
BBM Structural is honored to have a team of professionals who care as much for others as they do for each of their projects with our firm. We thank you for being influential members of our respective communities and fully support all your efforts.  Follow our  "Community Impact" article series and to learn more about what makes our team stand out, visit our Team Page.