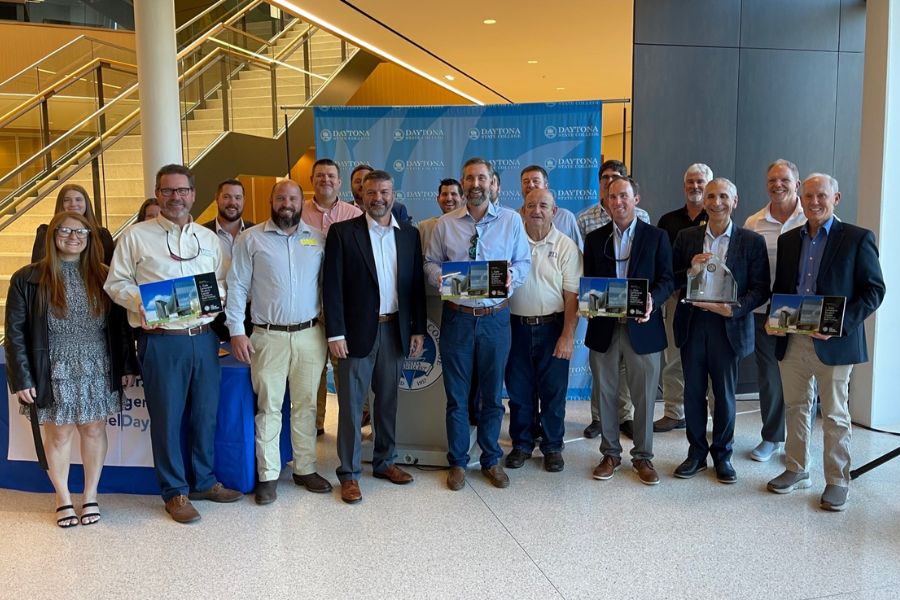 25 Oct

BBM is Presented the 2022 AISC's IDEAS² Award

National Steel Day had special meaning for the BBM team this year. On Friday, October 22nd they were presented with the American Institute of Steel Construction's IDEAS2 Awards for the L. Gale Lemerand Student Center of Daytona State College. Our own Ariel Neris, Associate and Senior Project Manager, and Karen Petersen, Associate and Director of Marketing & Business Development, were in attendance as Principal Kevin Casey received the reward in behalf of the firm for our structural engineering contribution to the project.

This collaborative effort, that included the talented architects from ikon.5 architects , the industrious general contractors at Perry-McCall Construction, and the steel fabricators and erectors of GMF Steel Group, is a testament to what functional innovation can create. As one panel judge commented: "As much as I enjoy clear, straightforward structural design I also take delight in the opposite. Hiding the support for the cantilever in the stair tower enclosure is an example of the structural engineer applying the stage magician's tricks of sleight-of-hand and misdirection. And to a magical effect! I also appreciate the fact that the two bold moves of the cantilever and the portal were not just design-ey affectations but served a very clear purpose in creating a building that functions as an open and welcoming gateway to the campus."

The award-winning design is a 3-story, 74,000 square foot building that serves as the focal point of the campus entrance. A whopping 750 tons of steel was used to create this piece of art that welcomes students to an environment conducive to education and experience. The inviting lobby area served as host for this event that was coordinated by our great friend Larry Flynn of AISC. Other award recipients at this special ceremony were Joe Tattoni of ikon5, Bob Buraszeski & Heath Mcall of Perry-Mcall, Lee Pointer of GMF, and Daytona State College representatives Chris Wainwright and Amy Locklear.

We are truly honored to work with these outstanding professionals and to be recognized for this collective masterpiece. See more of what BBM's successful partnerships have created in our portfolio.