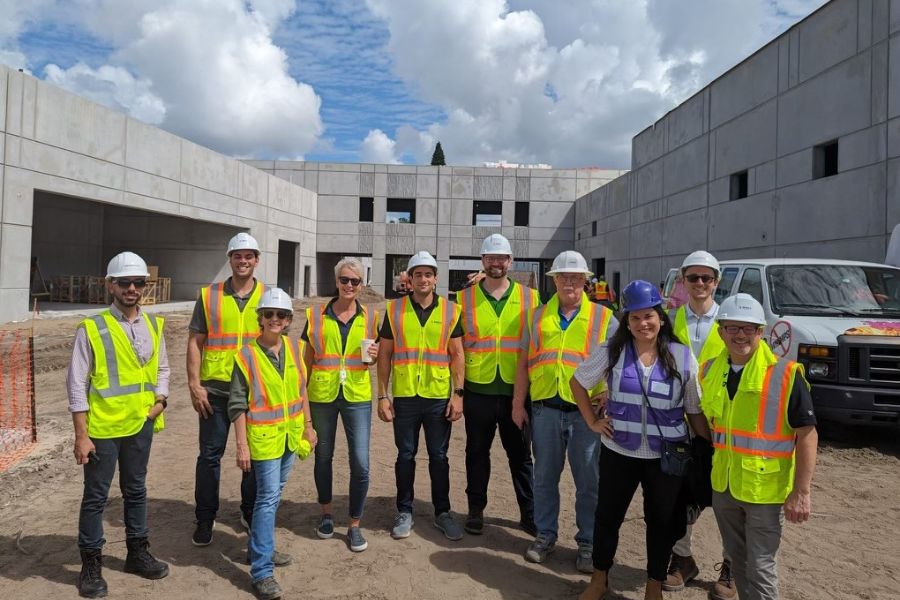 23 Oct

Marking a Milestone: The Topping Out Party for OTC Westside Campus Project

BBM Structural recently enjoyed, along with DLR Group, attending the Topping Out Party for the Orange County Public Schools' Orange Technical College (OTC) Westside Campus Replacement project. The construction team of Wharton-Smith had delicious Bubbalou's BBQ on hand and our BBM team had a guided site tour of the project by Arlenne Gil, DLR Project Manager.

Project Overview

The OTC Westside Campus Replacement project is a significant Orange County Public Schools initiative. This 120,000-square-foot project combines dual enrollment adult education and a high school program. It encompasses various programs, including veterinary assistance, building construction technology, HVAC, refrigeration, heating, welding, nurse assisting, and medical assisting. 

The design team at DLR Group, was entrusted with the task of reimagining the OTC West Campus from a converted 1950s high school featuring distinct portables into a cutting-edge campus spanning 37 acres. This transformation sets the design standard for the modern era of Orange Technical College. The new campus bridges the gap between K-12 education and the next steps into career readiness for adult and dual-enrollment learners.

DLR Group's campus design emphasizes student-faculty interactions, guided by input from visioning sessions, community meetings, industry-partner engagement workshops, benchmarking tours, and interviews with students and faculty. The heart of the campus is a student commons and courtyard that celebrate collaborative learning between trades. It features amenities to attract students, accommodate second-shift learners attending night classes, and facilitate authentic apprenticeship labs. These labs adapt to support each stage of certification completion.

The student courtyard unites wings that house the Construction Trades department with an Administrative wing and the Human Services wing, which includes a retail teaching Salon. The student commons is a focal point for curriculum displays and serves as a single entry point for students and visitors, offering safety and security checks.

The overall campus design leverages the Florida climate and maximizes outdoor learning spaces. This includes a construction build yard with sandboxes for electrical and plumbing classes to experiment with ground infrastructure. Additionally, there's a build-ready pad for larger collaborative group projects on the west side of the campus.

Above all, this project's mission is to unite the campus under one OTC brand and inspire and prepare students for their career paths. BBM was proud to apply its structural engineering expertise to bringing DLR's vision to life. 

The Topping Out Party celebrated the remarkable progress made on this transformative project. It signifies a brighter education and career readiness future in the Orlando community. Congratulations to the entire team for their dedication to this innovative initiative. It's an honor to collaborate with outstanding partners. Stay on the look out for its continued progress by visiting our portfolio.