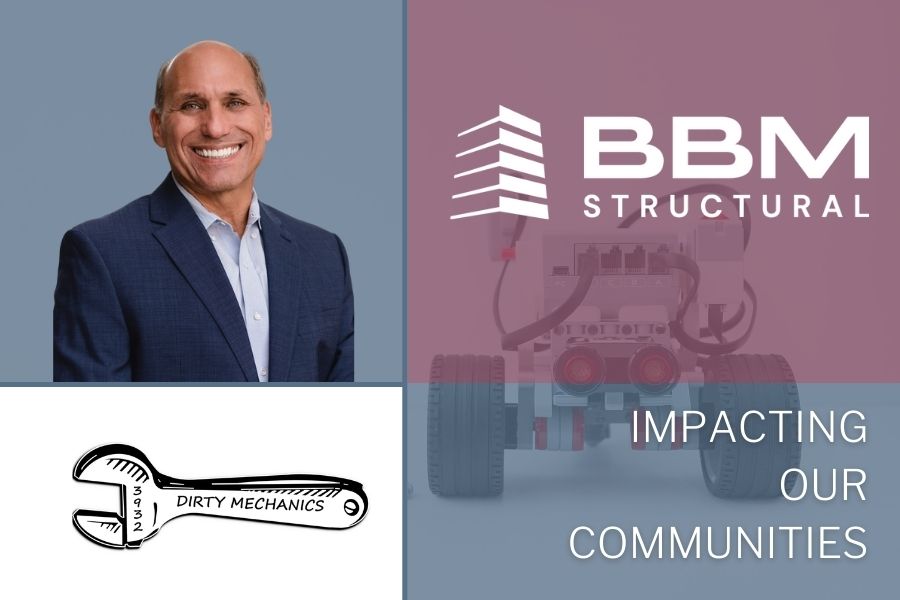 31 May

Community Impact: BBM Principal helps build for the future

BBM's expertise in structural design is a skill and art form we love to share with others. One of the many ways we have done so is with The Dirty Mechanics team from Boca Raton, Florida. This group is a FIRST® Robotics Competition team for high schoolers in the community. FIRST® (For Inspiration and Recognition of Science and Technology) teaches important STEM skills through hands-on robots building experiences.

Founding Mentor of the team and BBM Vice-President, Joel Middlebrooks, has spent more than two decades supporting this unique and innovative initiative whose mission includes motivating young people to become skilled science and technology leaders by fostering an inspired and self-sustained community of mentors and students. Mentoring the program has given Joel a great platform to impart his knowledge in a creative way that not only benefits the community but even enhances the well-being of all the participants.
"I really enjoy collaborating with the High School students on robot design and skills building, especially during the off-season where we provide
further

training and skills development. We have fun with the kids and it really keeps you young."

The students also learn to collaborate in order to grow expertise in soft skills such as leadership & communication. They are dedicated to helping and giving back to their community, sharing expertise with other FIRST® teams, and volunteering for FIRST® events. They are committed to building awareness and excitement about what robotics means to the future of our world and recognizing those that are making the biggest impact.

BBM Structural has proudly sponsored the efforts of "The Dirty Mechanics" since 2011 and currently, the team has 25 members from 10 different public and private high schools, as well as home school participants in a year-round program. Their ingenious designs have merited several awards, most recently, the "Engineering Inspiration Award" at the FIRST® Robotics Bayou Regional competition on March 31 – April 2nd, 2022. This puts them in line to compete for the third time at the FIRST® FRC World Championships.

BBM Structural values the importance of giving back to the communities, knowing there is nothing more rewarding than making a difference in the lives of others. Follow our  "Community Impact" article series and to learn more about what makes our team stand out, visit our Team Page.